Articles
New evidence published in the Cochrane Library [1] shows that human papilloma virus (HPV) vaccines protect against cervical lesions in young women, particularly in those who are vaccinated between the ages of 15 and 26. It also summarises findings on harms that have been assessed in randomised controlled trials.
A new study by the International Agency for Research on Cancer (IARC), published online in the Annals of Oncology [1], found that there was no association between circulating vitamin D levels and lung cancer risk. The report presents a robust analysis of more than 5300 case-control pairs nested within 20 international prospective cohort studies. This is the largest observational study to date on the relationship between vitamin D and cancer.
A new study [1] suggests that a diet free from red meat significantly reduces the risk of a type of colon cancer in women living in the United Kingdom.
comprehensive cancer care
Where can I find information about a specific CCC?
Where can I find information about a specific CCC?
The map containing information on all Comprehensive Cancer Centres (CCCs) in the Czech Republic is available on the NOP On-line portal homepage. The required information can be obtained with several mouse clicks, as indicated below.
Step 1: Selecting a region
Move the mouse cursor over the region of interest (on the map) or over its name (in the menu on the right). Click to confirm the selected region.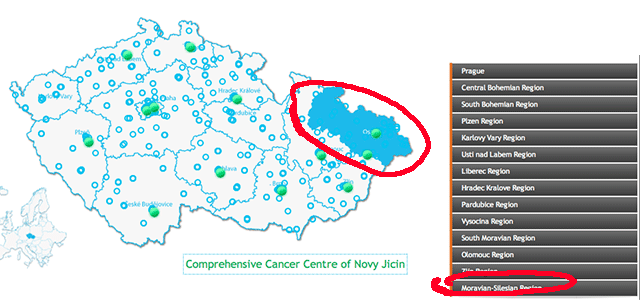 Step 2: Selecting a specific CCC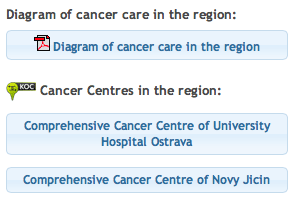 Use the light-blue buttons (see image on on the right) to select the Comprehensive Cancer Centre (CCC) you are interested in. Please note that there can be more than one cancer centre in the same region. Click on the button with the title of selected CCC to display detailed information about the CCC of interest. Alternatively, you can click on the button "Diagram of cancer care in the region" to see a schematic representation of relations among healthcare facilties involved in cancer care in that region (see image on the bottom of the page).
List of healthcare facilities which constitute the CCC of interest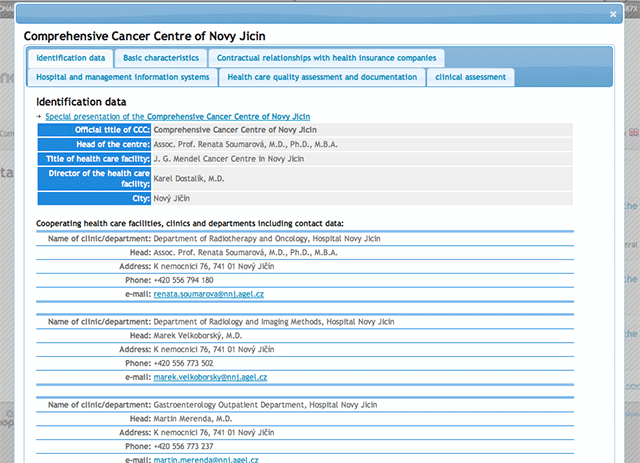 Schematic representation of relations among healthcare facilities involved in cancer care
in a a given region
More tips