Articles
Women who take part in breast screening have a significantly greater benefit from treatments than those who are not screened, according to a study of more than 50,000 women [1], led in the UK by Queen Mary University of London.
Colorectal cancer (CRC) incidence rates across Europe in adults aged 20 to 39 years increased by 6% every year between 2008 and 2016, new research has shown [1].
In a study of postmenopausal women, participants who lost weight had a lower risk of developing invasive breast cancer than those who maintained or gained weight. Published early online in Cancer [1], a peer-reviewed journal of the American Cancer Society, the findings suggest that weight loss may help lower postmenopausal women's breast cancer risk.
comprehensive cancer care
Where can I find information about a specific CCC?
Where can I find information about a specific CCC?
The map containing information on all Comprehensive Cancer Centres (CCCs) in the Czech Republic is available on the NOP On-line portal homepage. The required information can be obtained with several mouse clicks, as indicated below.
Step 1: Selecting a region
Move the mouse cursor over the region of interest (on the map) or over its name (in the menu on the right). Click to confirm the selected region.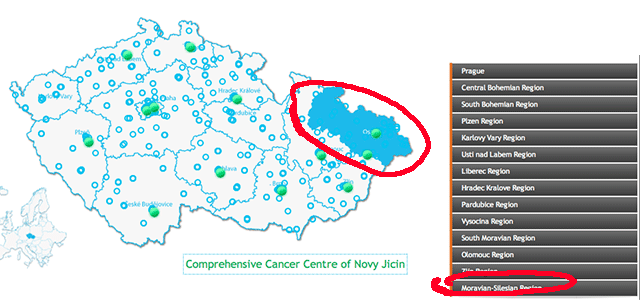 Step 2: Selecting a specific CCC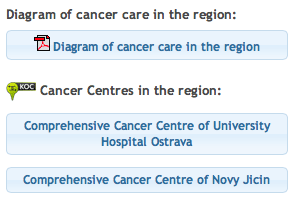 Use the light-blue buttons (see image on on the right) to select the Comprehensive Cancer Centre (CCC) you are interested in. Please note that there can be more than one cancer centre in the same region. Click on the button with the title of selected CCC to display detailed information about the CCC of interest. Alternatively, you can click on the button "Diagram of cancer care in the region" to see a schematic representation of relations among healthcare facilties involved in cancer care in that region (see image on the bottom of the page).
List of healthcare facilities which constitute the CCC of interest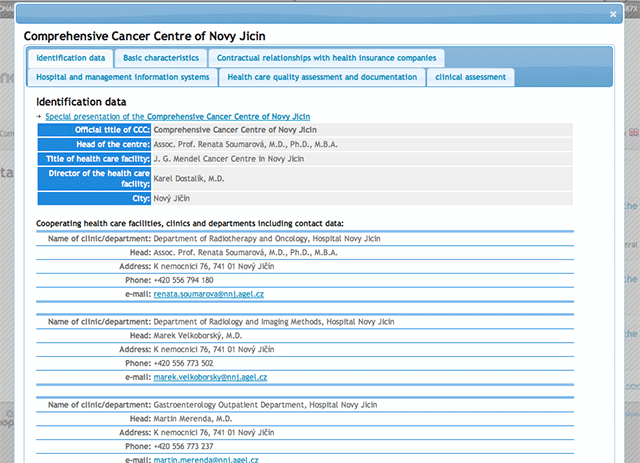 Schematic representation of relations among healthcare facilities involved in cancer care
in a a given region
More tips