Articles
If first-degree relatives are affected by colorectal cancer, this indicates a person's own elevated risk of developing bowel cancer. The same holds true for people who have large numbers of genetic risk markers in their genome. Both factors are usually used alternatively, not combined, to predict risk. Scientists from the German Cancer Research Center (DKFZ) in Heidelberg have now shown that a combination of family history and an analysis of genetic markers helps determine a person's colorectal cancer risk more precisely.
Improvement and innovation of cancer care and its availability to all citizens belongs to EU priorities in the area of public health. The INTENT project is one of the new contributions in this field, aiming to find solutions for innovative patient-centred cancer care.
Researchers have developed a blood test based on combined analysis of DNA and proteins that may allow earlier detection of eight common cancer types. The findings have just been published in the journal Science [1].
comprehensive cancer care
Where can I find information about a specific CCC?
Where can I find information about a specific CCC?
The map containing information on all Comprehensive Cancer Centres (CCCs) in the Czech Republic is available on the NOP On-line portal homepage. The required information can be obtained with several mouse clicks, as indicated below.
Step 1: Selecting a region
Move the mouse cursor over the region of interest (on the map) or over its name (in the menu on the right). Click to confirm the selected region.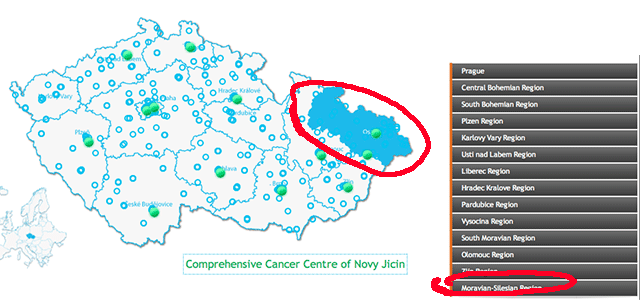 Step 2: Selecting a specific CCC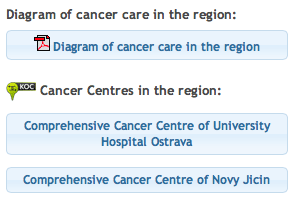 Use the light-blue buttons (see image on on the right) to select the Comprehensive Cancer Centre (CCC) you are interested in. Please note that there can be more than one cancer centre in the same region. Click on the button with the title of selected CCC to display detailed information about the CCC of interest. Alternatively, you can click on the button "Diagram of cancer care in the region" to see a schematic representation of relations among healthcare facilties involved in cancer care in that region (see image on the bottom of the page).
List of healthcare facilities which constitute the CCC of interest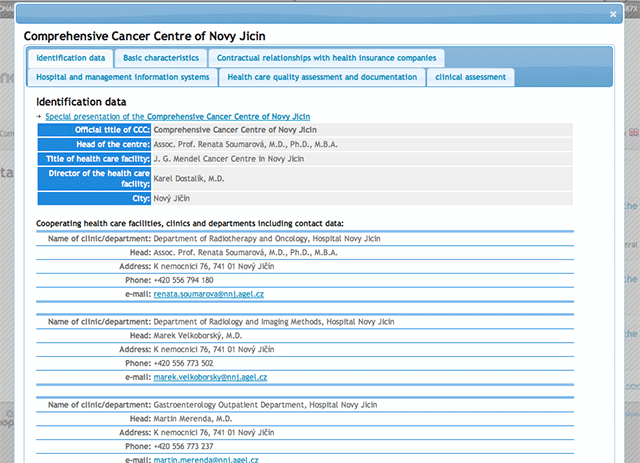 Schematic representation of relations among healthcare facilities involved in cancer care
in a a given region
More tips