Articles
The INTENT project aims to find solutions for innovative patient-centered cancer care. It targets and involves various types of actors: cancer care providers, patients and policy makers. The aim is to work with these groups to create a better understanding of how to interpret the patient-centered approach and identify ways for improving cancer care in central Europe.
Mammography remains an effective method for breast cancer screening in women ages 65 and older, with the addition of a 3-D technique called tomosynthesis improving screening performances even more, according to a study published in the journal Radiology [1].
Cancers have long been known to arise due to environmental exposures such as unhealthy diet or smoking. Lately, the microbes living in and on our body have entered the stage as key players: while stomach cancer can be caused by a single bacterial species, Helicobacter pylori, the role that gut microbes play in the development of colorectal cancer – the third most common cancer worldwide – is less clear. To determine their influence, association studies aim to map how the microbes colonizing the gut of colorectal cancer patients are different from those that inhabit healthy subjects.
comprehensive cancer care
Where can I find information about a specific CCC?
Where can I find information about a specific CCC?
The map containing information on all Comprehensive Cancer Centres (CCCs) in the Czech Republic is available on the NOP On-line portal homepage. The required information can be obtained with several mouse clicks, as indicated below.
Step 1: Selecting a region
Move the mouse cursor over the region of interest (on the map) or over its name (in the menu on the right). Click to confirm the selected region.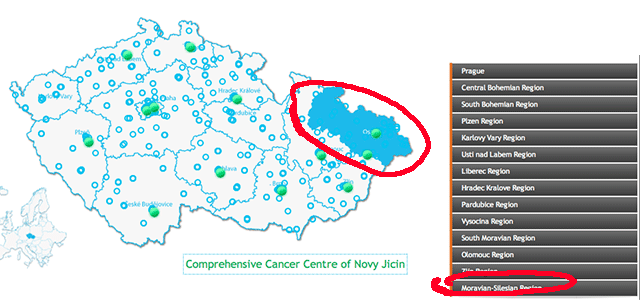 Step 2: Selecting a specific CCC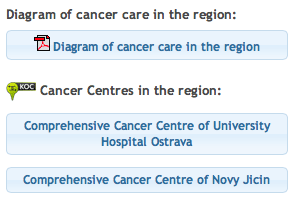 Use the light-blue buttons (see image on on the right) to select the Comprehensive Cancer Centre (CCC) you are interested in. Please note that there can be more than one cancer centre in the same region. Click on the button with the title of selected CCC to display detailed information about the CCC of interest. Alternatively, you can click on the button "Diagram of cancer care in the region" to see a schematic representation of relations among healthcare facilties involved in cancer care in that region (see image on the bottom of the page).
List of healthcare facilities which constitute the CCC of interest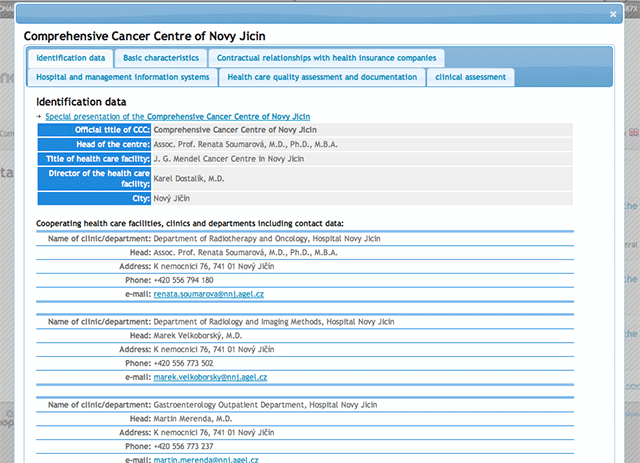 Schematic representation of relations among healthcare facilities involved in cancer care
in a a given region
More tips